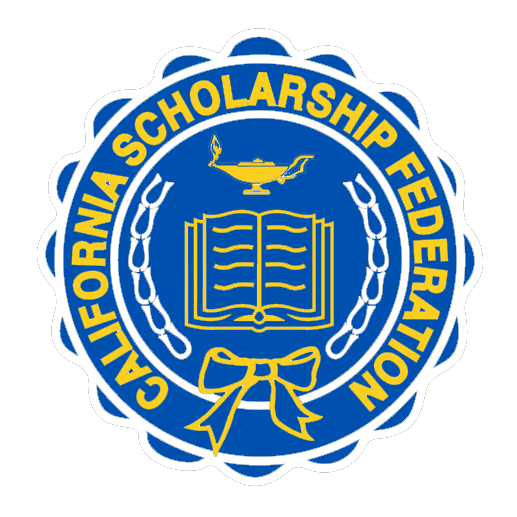 The California Scholarship Federation, Inc. is a nonprofit organization whose mission is to recognize and encourage academic achievement and community service among middle and high school students in California. There are approximately 1500 chapters in middle school and high schools throughout the state, and each chapter is comprised of students members who meet eligibility requirements. Each chapter is led by a staff adviser.
Eligible students become members by submitting applications based on their report card grades. Membership is for one semester, and membership drives are held each semester within established periods dictated by the State bylaws.
Conferences are held annually, and student awards recognizing scholastic achievement and community service are presented.
HISTORY
The idea for a state-wide organization to honor outstanding high school students was first proposed by Mr. Charles F. Seymour at a convention of high school principals in Oakland in 1916. Mr. Seymour was then vice-principal of National City High School in San Diego County, and in 1916 he had organized a scholarship society on his campus, modeling it after one already established at Long Beach Polytechnic High School. No action was taken on his proposal at that time.
For the next five years Mr. Seymour led an active campaign to win support for his idea. As a result, a number of schools throughout the state organized similar societies. Two of these, National City and San Luis Obispo, began to use a seal patterned after the one used by Long Beach. These were the first steps toward affiliation. In 1921 Mr. Seymour, now head of the Social Studies Department at Long Beach Polytechnic, again appeared before the Principals' Convention in San Rafael and asked that a state-wide scholarship society be founded. Despite significant opposition, Mr. Seymour's idea carried the day, and a few weeks later all high school principals received an invitation to send representatives to Los Angeles on June 4 to establish such an organization.
In June, a committee of five began work on a constitution, which was finally ratified on October 15. Once the California Scholarship Federation had become a reality, thirty-four schools applied for charter membership. Twenty-nine of these received full status immediately, and chapter numbers were determined by lot. All subsequent chapter numbers have been assigned in the order of approval. The list of charter high schools appears here.
SERVICE TO THE COMMUNITY
Since the organization's inception, over 1500 CSF chapters have been approved. Today's chapters continue to foster the recognition, motivation, and education of academically talented students. Chapter memberships promote the CSF ideal of service to their communities.
CALIFORNIA JUNIOR SCHOLARSHIP FEDERATION
In 1967, the California Junior Scholarship Federation (CJSF) was founded to foster high standards of scholarship, service and citizenship in the middle school/junior high grades. Like CSF, CJSF emphasizes service to the school and the community while encouraging pride in scholastic achievement. In recent years the rapid growth of the California Junior Scholarship Federation (CJSF) has greatly strengthened CSF.