Summer School Credit Recovery 2022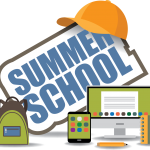 Where: CVM
When: June 6 – June 27, from 8 a.m.-1:30 p.m.
Who: 7th grade students returning for 8th grade who failed a semester in English, Math, Science or World Cultures or who were invited to attend for the Math 8 Accelerated course.
Classes offered:
English 7A        English 7B      World Cultures B           General Science 1B
Math 7A             Math 7B          Math 8-A, Accelerated     AVID Summer Bridge
Summer School Schedule
June 6 to June 27.
No summer school on June 20th– Juneteenth Holiday
Block 1:                8:00 am -10:30 am
Lunch:                   10:30 am -11:00am
Block 2:                11:00am- 1:30 pm
For more information please contact Chula Vista Middle School at 619-498-6800.